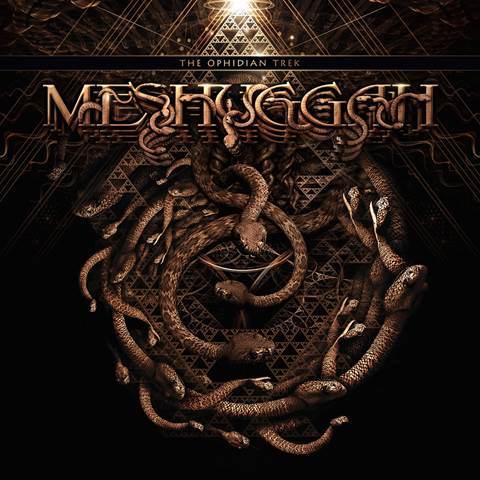 Swedish math metal titans Meshuggah will be putting out a live DVD and BluRay titled The Ophidian Trek via Nuclear Blast this fall. Footage for the 2 CD/DVD or BluRay combo was taken from their 2013 U.S. and European tour of the same name and the band's appearance at Waken festival.
The live audio was processed and edited by guitarist Fredrik Thordendal, mixed by Daniel Begstrand, and mastered by Mats Lindfors.
Drummer Tomas Haake had this to say about the release:
"We're really stoked about this new Meshuggah live DVD! It's been four years since the release of Alive, and with the band celebrating 25 years, we felt that we just had to get another one of these puppies out there!
"Audio/video was recorded during our European stretch of 'The Ophidian Trek' tour, as well as at the Wacken Open Air festival — and we're super proud of how it came out!
"For this one, we used the extremely talented photographer Anthony Dubois for filming and editing, etc., and he's really done a stunning job with it!
"Hope you guys dig it, and here's to another 25!! (or maybe just a little less;-) )"
Here's the track listing:
Live DVD:
1 – Swarmer
2 – Swarm
3 – Combustion
4 – Rational Gaze
5 – obZen
6 – Lethargica
7 – Do Not Look Down
8 – The Hurt That Finds You First
9 – I Am Colossus
10 – Bleed
11 – Demiurge
12 – New Millennium Cyanide Christ
13 – Dancers To A Discordant System
14 – Mind's Mirrors / In Death – Is Life / In Death – Is Death
15 – The Last Vigil
Live CD 1:
1 – Swarmer
2 – Swarm
3 – Combustion
4 – Rational Gaze
5 – obZen
6 – Lethargica
7 – Do Not Look Down
8 – The Hurt That Finds You First
9 – I Am Colossus
Live CD 2:
1 – Bleed
2 – Demiurge
3 – New Millennium Cyanide Christ
4 – Dancers To A Discordant System
5 – Mind's Mirrors / In Death – Is Life / In Death – Is Death
6 – The Last Vigil